With my forming years in late 80's and early 90's it's fun to see the impact Grunge movement had, not only on music, but also on the visual aspects of music, for instance the album covers. Oddly the album cover of the album that stated the revolution on a global scale didn't follow the rules it created.
It's funny with trends and their impact. Often they start as some kind of statement or reaction, but as soon as they gain a certain level of commercial success they become a part of the business model.
When Grunge broke through worldwide, its approach to making music, image and nonetheless visual identity became something that record companies forced over most of existing rock bands, regarding of their legacy or path.
Looking at some of the album covers of the bands who made these adjustments (willingly or unwillingly) the shift if clear.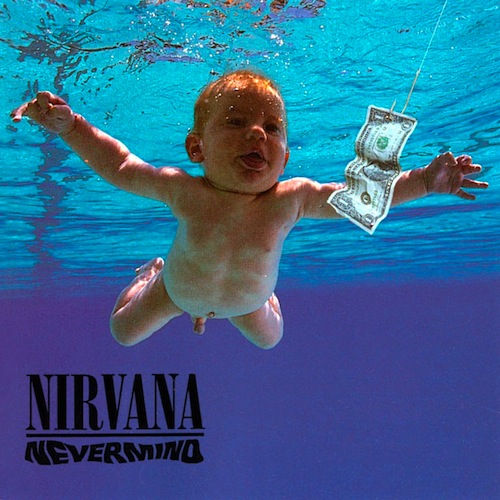 Nirvana are widely considered as godfathers of Grunge and while they most certainly didn't start what became known as "Seattle movement", they did make the it global. Absurdly, Nevermind, the album that broke Grunge to the worldwide stage is an album whose cover is nothing like those it inspired. Just look at the cover of that album. It's not signalling Grunge in any way, with a possible exception of title, even thou it's written is the least Grunge font ever.
It's actually odd that someone has chosen this image for the cover of an album like Nevermind. Sure comparing to Nirvana's previous record Bleach, this album is far more polished in its sound, but it's still a rock album.
But, nevermind, the Grunge did change the landscape of rock music for few years and it's really fun observing those changes form the album cover point of view. Below are some examples of these changes from the existing bands.
Changes are sometimes drastic, other times less so, but they are always apparent. Common for all of them is that images, fonts and in some cases even logos  drastically change in a direction of a messier, more abstract and unclean. The "ugly" and "messy" became pretty and nonetheless "IN". I guess the best word for describing this change is grungier.
Bellow you can see some examples and it's clear the changes that occur post 1991. The same goes for music itself as well as videos so do yourself a favor and check some of those out. Despite the radical change most of those changes did most certainly result in number of great (but often underrated) albums. Now that the hip of Grunge is couple of decades behind us you should give some of those albums a fair chance in case you didn't do that back in the day. Start with The Cult's The Cult, and follow it with Skid Row's Subhuman Race. Finish off with Anthrax's masterful Sound of White Noise, and then do yourself a favor and (re)discover some of the other many heavily underrated albums from the era.