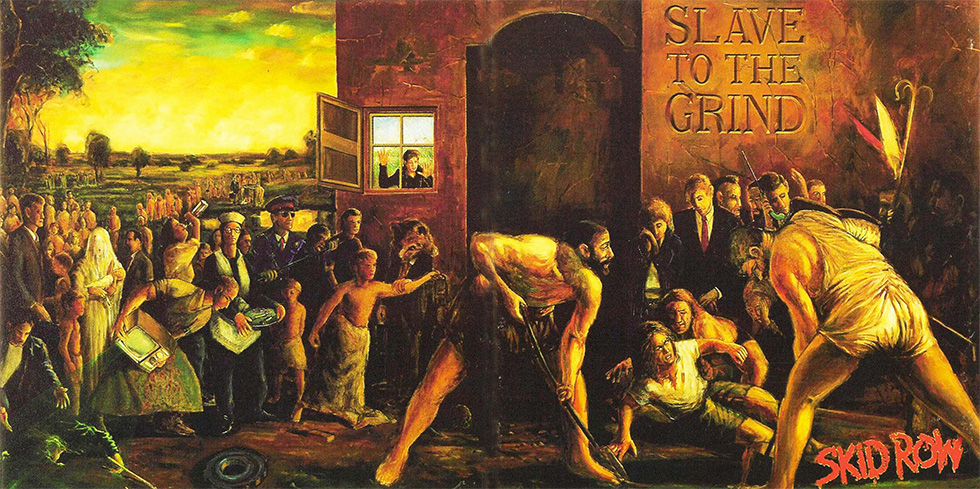 Today marks 25 years since the release of Skid Row's landmark album Slave To The Grind, the first heavy metal album to debut on #1 spot on Billboard charts. For a moment there the band was on the top of the world  and then, I guess, rock 'n' roll got in the way.
Coming out in the late 80's with big help from fellow New Jersey superstar, Jon Bon Jovi, Skid Row took the hard rock world by storm with their self-titled debut, which in many ways was a slightly edgier Bon Jovi. Hits like "18 And Life" and "Youth Gone Wild" resonated with the youth of the world who found themselves too tough for pop and too mellow for metal. Personally I was already well on my way into the world of metal, but Skid Row most definitely appealed to me. However it was with the release of Slave To The Grind that they really got hold of me and to this day I see that albums as one of my favourites of that time period.
I still remember that summer day that I got my STTG cassettetape and I pressed play. The quite and blusey intro of "Monkey Business" started. Sebastian Bach's vocals were low and even mumble-like and then some seconds later the whole thing exploded into this bombastic riff and Bach's signature scream. I was blown away by it and nonetheless less by the sound, which was far more heavy, mature and generic. If the opener didn't convince me that this is a heavy metal record, then the title track most certainly did a job. "Slave To The Grind" was basically a trash metal song with massive riffs and high speed, while remaining catchy during the course. On the paper, Skid Row have since then released songs that are heavier and faster, but the interplay and the power of this song makes it the heaviest song the band have ever recorded. Well, at least in my eyes.
Album also included three ballads, but unlike those on their debut, these were dealing with more complex subjects and they were heavier and had a less typical structure and arrangements. These songs represent some of the darkest and subject-wise heaviest tunes on the album.
At the time of its release I found myself in the middle of a war. An actual war. Songs on STTG resonated with me on a whole new level. It could be their approach, their sound an nonetheless their lyrics. It could be the rebellious and direct lyrics of "Riot Act" and the title track or the beauty and pain of "In a Darkened Room" and "Quicksand Jesus". The lyrics resonated with my newfound reality and its broad spectra.
At age of 18, this was in many ways a soundtrack of my youth and together with likes of Use You Illusion, Ceremony, Metallica, Ten, Nevermind, Ritual De Lo Habitual, No More Tears, Hey Stoopid – a soundtrack of my year 1991.
[button text="Read the track-by-track comment at the bottom of this page" link="#track-by-track" style="warning" size="lg" target="_self" display="block" class="" icon=""]
Fast-forward to 1993, a 20 year old me is a refugee, living in a refugee camp in a foreign country. When arriving to this new country I had a single shoulder bag with me, in it:
50% occupied by a boombox
25% occupied by audiocassettes (including both Skid Row albums)
25% clothes and toiletries.
Same year somehow I scrapped enough money to buy Skid Row's Road Kill video on VHS tape. Over the course of next couple of years I wore that tape thin. I've seen it so many times. It was Skid Row at the top of their glory.
Fast-forward another two years to 1995. Still living in a refugee camp. Waiting impatiently for the new album to come out. It felt like ages of waiting for this. I've spend day/night prior to its release gathering empty bottles on the streets and in trains in order to get enough cash to buy Subhuman Race CD.
The album saw a shift in musical (and visual) style, perhaps partly enforced by the record company, but it also reflected the band's inspiration, big portion of which, now came from the likes of Pantera and Alice In Chains. The album saw band's drummer Rob Affuso delivering the best performance of his career.
The album was commercial failure but I loved the album even thou it wasn't up there with STTG. I still love it. Even thou Rachel Bolan, one of Skid Row's main songwriters apparently thinks that it "… absolutely sucks."
Skid Row, for me, was a band with many talents and highlights, but three are most obvious:
Song-writing duo of Rachel Bolan and Dave Sabo.
Guitar duo of Dave Sabo and Scotti Hill
Voice, attitude and looks of bands frontman Sebastian Bach.
All aspects proved to be important, but more importantly they proved to be depending on one another.
After finishing the Subhuman Race tour the band dismembered, and its members experimented with different musical projects and what not. Some eight years later Skid Row released their comeback album Thickskin with a new singer and a new drummer. It failed commercially, but it was a fairly good record. On the other hand Sebastian Bach started releasing solo records and he did an ok job with Angel Down.
But not even those albums and especially some of the other rather dreadful releases, managed to create that magic that was trademark of Skid Row's first three releases – and STTG in particular.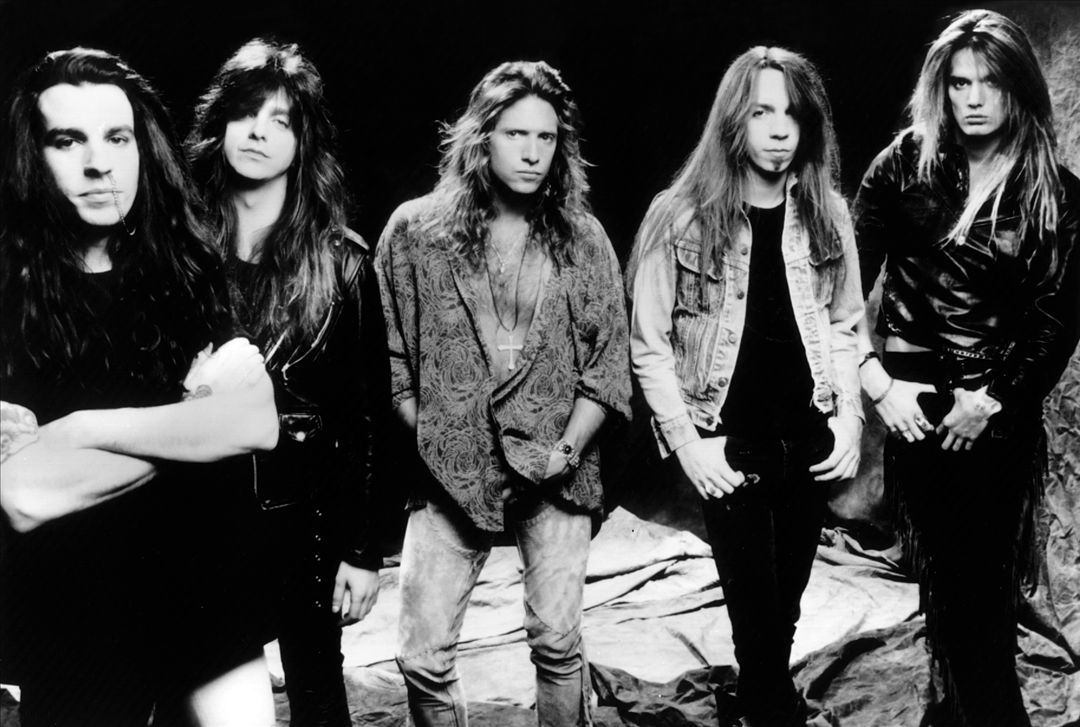 Over the years (the new) Skid Row and Sebastian Bach have been asked about the possible reunion in just about any interview they conducted, but the reunion never happened. And despite the musical and emotional connection I have to this band, I hope that this reunion never does happen.
Why?
Well there are few different reasons really… Most of them are connected with what has happened with both sides since the break-up of the original line-up.
Since the break-up Skid Row and Bach have released one good album each and sure there are couple of good songs, here and there, on some of the other albums, but they never managed to create something truly memorable. That might seem as a reason for them to get back together, but there are just way to many aspects that seem to point that such an reunion would be a total trainwreck.
There is lots of bad blood between Bach and some of the original members of the band. So much so that Skid Row is not considering the hiring him as a singer even after being on their third singer since the break-up. Previous one managed to be in the band for only couple of months. Any kind of reunion would have hard time coming accross as genuine.
Speaking of genuine; Bach has been very vocal about the fact that he would do a reunion tour, not because he wants to, but he would do it for the fans. I guess Bach was trying to appear large and put some pressure on Skid Row, but instead he came across as a moron. I mean who in the world wants to see a concert with a band that doesn't want to play together, but does it anyway? As a fan of music Bach must know the importance of chemistry and passion of the live performance.
Since dismantle of Skid Row both parties' live performances have heavily relied on playing the songs from those first three albums to a such a degree that on a current "An Evening With" tour Sebastian Bach (or "The Original Voice of Skid Row" as he markets the tour) usually plays only one of his solo songs with the rest being Skid Row songs and few other covers. Some might say that that is the reason for the band to get back together. Perhaps only when these five are together they can create some amazing music? Perhaps. But while I do believe that the dynamics between certain people can be the key for creating something bigger, I can't believe that those dynamics solely rely on that. There is more to it and chemistry (and the fact that you don't hate and shit all over each other) is a huge part. Talent and dynamics alone are not enough to create something memorable.
Bach's performance on Slave To The Grind (and Subhuman Race) is simply amazing. On fire! Emotional! Technically superb! That was then. Bach can still sing, but nowhere near his glory days. Nowadays he's often not doing those old Skid Row songs justice, when performing live. I guess he's no Axl Rose.
Quite recently Bach used social medias to verbally attack and even threaten an online critic who wrote a not so flattering review of his concert. Think about it. Think about the level of desperation and lack of brain activity that it takes to do that as a public person. Sure we can divide music from personality as we should, why else would we be listening some great music from some horrible human beings, but Bach's reaction here makes you realize that such a person could never pull a big scale reunion in an professional matter. Axl Rose comes agin to mind. Think about the level of pressure and negativity he has been over the years (decades actually), and think about the way he has handled it. I guess that's why he could pull off Chinese Democracy, GN'R reunion and singing for AC/DC.
Revolutions per Minute and United World Rebellion sugest that Bolan and Sabo have their best songwriting days are behind them.
Taking into consideration what Skid Row was and what they've created during their short run it's hard not to be tempted by the idea of a reunion, but wishful (nostalgic) thinking aside, such an reunion seems unlikely to succeed od any level. Therefore I prefer to have my love of Affuso Bach, Bolan, Hill and Sabo left as it is – magical and ever-rewarding. And as for all the musical ventures the 5 members have undertaken since Subhuman Race – I've alwayes followed them, I'll continue to do so in the future. Some of it I'll enjoy, but that era has always suffered of a syndrome I like to call "Slave to the Mild". A syndrome that just prevents you from creating anything tryly memorable.
Regardless, now I'll hit that "PLAY" button on my CD-player (yes I'm aware that the year is 2016 and music can be streamed) and enjoy the magic that is Slave To The Grind. The intro to "Monkey Business" starts as I write this and the main riff is just about to kick in. How can that … not make me smile?
Slave to the Grind – track by track
[accordions] [accordion title="1. Monkey Business" visible="yes"] It has become one of the absolute Skid Row classics, but I don't see it as bands finest moment. It is, however, a very good song and an absolute perfect album-opener. It also works extremely well live, especially when played with extended intro and middle section.
I remember listening to it for a very first time an being bit puzzled by the blousy intro, and being completely blown away by the massive sound and energy of that moment when the song really kicks in. [/accordion] [accordion title="2. Slave to the Grind"]
One of the best and heaviest songs the band has ever recorded. It's not only heavy metal, but it certainly also dips well into thrash metal. I remember playing it for my brother when it came out and he never guessed that it was a Skid Row song. The anger and energy of the song are staggering and Bach's performance is spot on. STTG producer Michael Wagner once told The Decibel Geek Podcast "The song 'Slave to the Grind' was recorded and mixed in an hour, and that's what you're hearing on the record,". "It was not even remixed. Everything is live."
[/accordion] [accordion title="3. The Threat"]
"The Threat" is one of few songs on the album that draws most parallels to the debut album. Its groove and flow, on the other hand are miles ahead from the more straightforward arrangements of the debut. All the aspects of the song are extremely well welded together.
[/accordion] [accordion title="4. Quicksand Jesus"]
The first of three ballads on this album is also the most difficult one to digest. Its structure, arrangements and lyrics are far more complex then what we've grown custom to on the first album. This song is another highlight on the album. Song builds up from calm to full blown-up explosion in a seamless matter without changing pace and all the while the structure of the song doesn't follow the classic forms at all. Scotti Hill's solo is perhaps the most beautiful one oh his entire career. It's as delicate and as wild as the waves at the sea. Bach's vocal performance is diverse and passionate – easily the finest one of his career.
[/accordion] [accordion title="5. Psycho Love"]
It's a typical Bolan song, with a fat groove driven by the bass and drums. It's a good song, but far from a classic Skid Row.
[/accordion] [accordion title="6. Get the Fuck Out"]
"Get the Fuck Out" is fun and catchy, an instant live classic. At the time I thought it was brilliant, but nowadays its semi-chauvinistic humour and cocky attitude seam less appealing. Regardless, it's great tune that needs to be played loud.
[/accordion] [accordion title="7. Livin' on a Chain Gang"]
Fist song on "Side B" of my audiocassette, starts off with Bach screaming from the top of his lungs. Song is quite simple, but very effective, with some cool guitar work, especially during the solo sequence, where Hill and Sabo with greatest of ease bounce solos from one side to another. In the closing part of the song Bach plays with the melody, which adds to songs' dynamics.
[/accordion] [accordion title="8. Creepshow"]
The weakest song on the album, but not necessarily a weak song.
[/accordion] [accordion title="9. In a Darkened Room"]
Elegant and gorgeous. Lyrics that are timeless and guitar leads are as catchy as you can get , without becoming tacky.
[/accordion] [accordion title="10. Riot Act"]
A true punk-rocker and just one hell of a live tune. You can almost hear Rachel Bolan singing this one in wain with "Psycho Therapy". It's short and aggressive, fast and loud.
[/accordion] [accordion title="11. Mudkicker"]
Contrary to "Riot Act" it's slow with some massive fat riffs. As such the song adds to diversity of the album.
[/accordion] [accordion title="12. Wasted Time"]
One of the finest moments of Skid Row's career. A razor sharp song with extremely refined, catchy chorus and perfect transitions. Reportedly it's about Steven Adler's addiction, but the lyrics are very universal. Towards the end the song erupts in an orgy of passion and energy only to finish with Bach's a fragile sigh. Flaswless.
[/accordion] [/accordions]