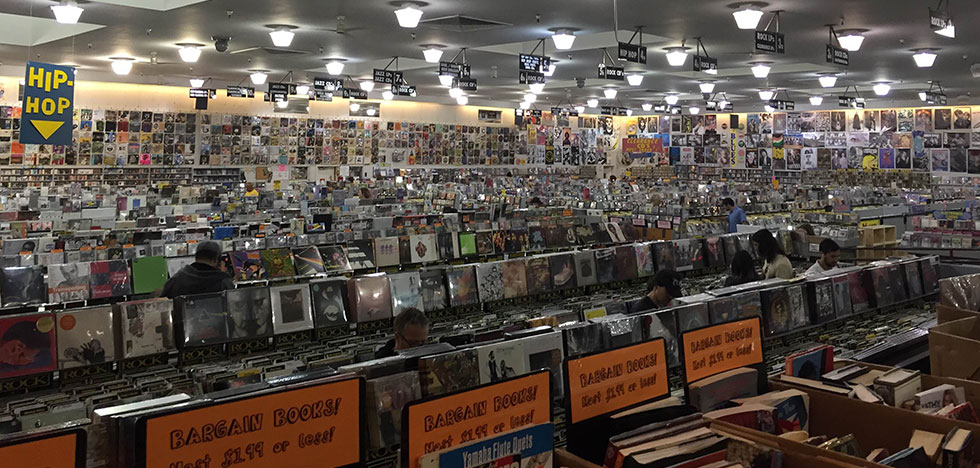 My US travels recently took me to San Francisco where I made sure to visit one of the finest music stores there are – Amoeba Music.
It was a pleasure to brows around through tens of thousands of music releases and finds plenty to buy. The whole look, smell and feel of the place added to the feeling of a pilgrimage completed.
Looking around at the costumers it was so easy to see that majority of people in the store are people for who music is more than just something that plays in the background or something to dance to at the parties.
I'm not a big ear dropper, but here it almost came naturally. All the conversations were about music, film, art and such. Some 7000km away from home I felt at home more they I do at any record store in Denmark.
Amoeba Music is still alive despite the fact that the business they are in is dying… fast. To me it looked like they understood how to survive, because there are still lots of people who prefer their music on physical ormats and it's important to focus on them. That's what Amoeba does in so many ways.
And just when I thought that my experience couldn't get any better – it did. And that happened after I came to place in SF where I was staying.
I've realized that I was heavily overcharged for the music I've bought.
How is that a positive thing? Well, it's not, but the way Amoeba music handled it is.
I've contacted them via email, and a wrong one mind you. My email was quickly forwarded to the right address and in matter of a single day I was informed that they would refund the money in matter of few days. The only thing that I needed to deliver was a copy of the receipt. Maybe they checked the surveillance cameras or whatever, because the receipt couldn't proof that I was telling the truth.
Regardless, there were no questions asked and I got my money in no time.
When I visited Amoeba Music's San Francisco store I had no idea that my visit was going to be even more positive then visiting such a great store.
Thank you Amoeba Music. Thank you Tony and Kara. Thank you for understanding what us, music geeks live for.
The whole experience for bloody sure did … make me smile.
And in case you were wondering what I've bought that day … here is the list:
Swans – To Be Kind (Young God / Mute)
Dead Can Dance – Toward The Withing (4AD)
This Mortal Coil – It'll All End In Tears (4AD)
King Crimson – In The Court Of The Crimson King (EG)
DJ Shadow – …Endtroducing (Mowax)
The Sotry Of Mowax (Mowax)
Tomahawk – Mit Gas (Ipecac)
!!! – !!! (GSL)