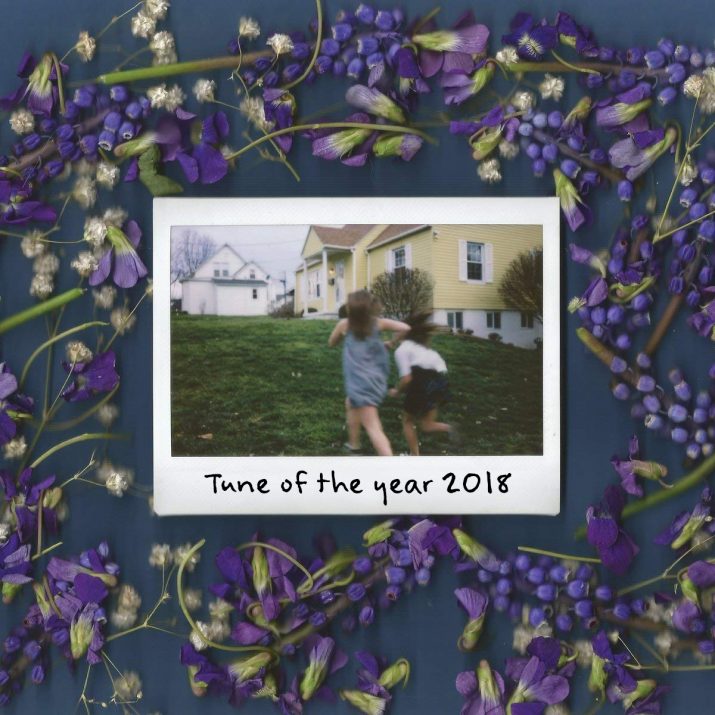 If choosing song of the year in 2016 and then again in 2017 has learned me anything is that choosing the song of the year is pain in the ass and it almost certainly comes back to bite you in the ass 🙂
But here we are again. It's that time of the year and 2018 is behind us and I couldn't get my self not to make another end of the year tune list.
2018, much like any other year, gave us piles of amazing music. Some of it came from expected places, while others hit us like a lightning form a clear blue sky.
My tune of the year is one of those lightning form a clear blue sky kind of tunes. It came from a new artist and it was featured on her debut album entitled At Weddings. The artist is Kentucky based artist Tomberlin and the song is "I'm Not Scared".
her debut features an almost overwhelming level of emotion and maturity, nonetheless taking into consideration her young age.
"I'm Not Scared" is extremely simple and it's not a song that serves as a display of musicianship or even vocal abilities. What it does do is it grabs you by the gut with its emotional performance and skin-deep honesty of song-writing.
But despite it's simply approach this years' song of the year has piles of qualities. Why else would it be crowned song of the year.
I usually fall for songs that also bear certain level of complexity and arrangements that are surprising, yet serve a higher purpose. This years' pick, however, is almost a complete opposite, but what it does do is what is at gist of any great song – songwriting and honesty in performance.
Regardless, this song is so good that I have easily chosen it as a song of the year, and taking one look at the honorable mentions, it's clear that the competition was fierce.
Tomberlin – "I'm Not Scared"
[row custom_class=""] [col-md-6]
Song: "I'm Not Scared"
LP: At Weddings (2018)
Performed by: Tomberlin
Music by: Sarah Beth Tomberlin
[/col-md-6] [col-md-6]
Lyrics by: Sarah Beth Tomberlin
Produced by: Owen Pallett
Label: Saddle Creek
Link: www.tomberlinmusic.com
[/col-md-6] [/row]
[blockquote]
I'M NOT SCARED

I'm not scared of you this time
And when you pick up the phone I'll stay on the line
And I'll do more than breathe this time
And I'll let you in at least I'm gonna try
And it felt so strange when I said it out loud
That I look for redemption in everyone else
But funny thing is that I always hated church
Spend so much time looking that I forgot to search
And to be a woman is to be in pain
And my body reminds me almost every day
That I was made for another, but I don't want to know that
Cause it happened once and I always look back
In my sentience I wear your judgement like a crown
Couldn't look you in your eyes so I look to the ground
Then I took the drugs again last night
But pills have never brought me any kind of light
My eyes are heavy all I want to do is sleep
But I need to make money and I need to eat
And loving never made anybody I know happy
And loving only seems to make you bruise and to bleed
And to be a woman is to be in pain
And my body reminds me almost everyday
That I was made for another, but I don't want to know that
Cause it happened once and I always look back
[/blockquote]
Honorable mentions – in no particular order:
[row custom_class=""] [col-md-6]
Sonnata – "Hollow Kingdom"
Polish rock and metal scene has in past few years become one of the most vibrant scenes in Europe. Sunnata is a great example of this very statement. It's an unsigned band, whose last year's record Outlands is perfect example of what happens when a passionate band with a clear vision sets its course to creating something truly unique. Album closer "Hollow Kingdom" embodies all the most distinctive trademarks of this band into an hypnotizing epic.
David Byrne – "Everybody's Coming to My House"
"Everybody's Coming to My House" is a fine representation of Byrne's diversity, catchiness and cockiness. The immediate pop feel of the song is spiced by complex arrangements and endless piles of different instruments. This song is a statement to an extraordinary career filled with unexpected twist and turns and what a truly impressive prof that at age of 66 an artist can be as curious as ever.
Therapy? – "Wreck It Like Beckett"
The latest album Cleave, by the Irish rockers Therapy? might not be as experimental as some of their most noteworthy releases, but it's another good record by the band and the highlight comes in form of the cheeky opener "Wreck It Like Beckett", which with its rawness and blistering energy draws parallels to some of band's early work. It's massive yet straight-forward. It's undeniably rock, but with almost industrial undertones. Try not to move when you hear this.
Thievery Corporation feat. Natalia Clavier – "Water Under the Bridge"
Over the decades Thievery Corporation have grown from DJ duo to an unique world-music collective. They keep on releasing interesting, emotional and relevant albums. "Water Under the Bridge", which features Argentinian singer Natalia Clavier is a perfect example of this. Despite it's musical and lyrical simplicity, the songs is extremely clever and with plenty of depth. "Our last goodbye / Our hello kiss / It's water under the bridge / The things we shared / The things we hid / It's water under the bridge".
Hypno5e – "Los Heraldos Negros"
For their new album french progressive metal band Hypno5e took a dramatic turn . They basically took a 180 and created an album that is for the most part acoustic and inspired by South American folk music. But there is plenty of complexity and even prog approach that lures under the surface and the "Los Heraldos Negros" is a prefect example of that very statement. Visuals in the accompanied video are just as gorgeous and intense.
[/col-md-6] [col-md-6]
Murder By Death – "Space"
With their new album and this song in particular Murder By Death take their dusty folk rock into the space. Who would have thought that they would ever take that turn, and let alone make it work, while at the same time staying true to themselves and their heritage. There is such a retro si-fi quality to "Space", which at the same time doesn't take a drastic turn to the approach of a typical Murder By Death song.
Long Distance Calling- "Out There"
This almost 10 minute long epic representation of the essence of this (mostly) instrumental German band . Songwriting, arrangements and and massive, yet fragile production gives the song seamless flow. It's grand but at the same time representative of four people jamming.
VOLA – "Vertigo"
With their second album, young Danish band VOLA already sounds like a band that has found its path. Diversity of the album material works to their advantage, but the highlight of the album is this extremely simple, yet hauntingly epic. Piano driven simplicity is accompanied by atmospheric soundscapes, which built on the inn initial beauty and intensity.
Manes – "Last Resort"
On the latest album Norwegian band Manes is more focused than ever, which has resulted in more to the point songs. "Last Resort" is a perfect representation of this and while the son is to the point it's also complex in its arrangements and emotional build-up. Truly staggering level of emotional outlet that might appear simple, but accompanies level upon level of masterfully gelled layers.
Antimatter – "Sanctification"
Antimatter have added much more intensity and darkness to their latest release. "Sanctification" is one of the finest songs of band's career and that says a lot. There is so much beauty and darkness in this song and already few seconds into the song, the listener feels parallelized and wrapped into its dark, yet gorgeous world. The songs builds seamlessly into this intense complex piece that leaves the listener almost gasping for air as the song ends.
Eldritch – "Hidden Friend"
"Hidden Friend" turns what could have been a straight forward piano driven power ballad into a song walled with over-the-top distorted guitars, electronica samples and no real rhythm section. Song's general beauty and intensity is amplified to unexpected levels by taking unexpected turns.
[/col-md-6][/row]
Giving all these songs time of my day… sure did make me smile.