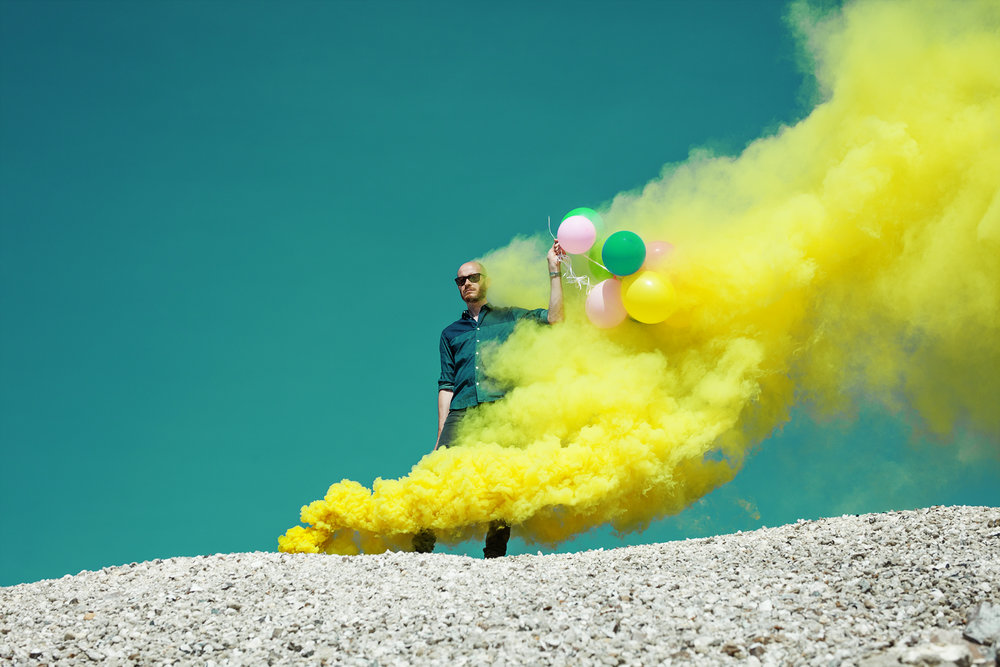 Choosing the song of the year is in many ways an impossible task. So that's why I last year decided to do it. That experience didn't knock me down, so this year I'll name the song of the year yet again.
So which song did stand out this year, more than any other? Melody, music, lyrics, arrangements, production, mix and nonetheless feeling, that made a single tune a bit better than the rest? Well as of today it's again a song that is quite simple and straight forward, which I guess it's kinda odd, because I tend to go for complex, unique and unexpected music.
But despite it's simply approach this years' song of the year has piles of qualities. Why else would it be crowned song of the year.
Overall the song is simple, but it's not predictable and subtle twists and turns make it fun and add to its vitality.
One of the biggest strengths of this song is the eminent shifting AND balance between depressing AND cheerful. Sometimes the songs balances between the two, but for the most part it mashes them into a whole that at times makes the listener wonder f they should sit down with their head in hands or if they should dance around is carefree matter.
Arrangements and the production are vibrant and the artist comes across as a accomplished musician and artist with a vision and not just a former drummer in the band who once did a duet with David Bowie.
Regardless, this song is so good that I have easily chosen it as a song of the year, and taking one look at the honorable mentions, it's clear that the competition was fierce.
So now that you've been listening to me blabber-on about this song, perhaps it's time for you to give it a listen. You can also see the  video that accompanies the song , but I couldn't get my hands on the official lyrics for the songs so those might be added later.
Asger Techau – "Stick In The Mud"
[row custom_class=""] [col-md-6]
Song: "Stick In The Mud"
EP: Waves (2017)
Performed by: Asger Techau
Music by: Asger Techau
[/col-md-6] [col-md-6]
Lyrics by: Asger Techau
Produced by: Asger Techau & Caspar Hesselager
Label: Arts & Crafts México
Link: www.asgertechau.com
[/col-md-6] [/row]
[blockquote]
STICK IN THE MUD

At this point the lyrics are missing.
If you have the official lyrics send them to me.
Yes, I know there is not contact form or contact info on this page.
Send them to me using Facebook if you have them.

[/blockquote]
Honorable mentions – in no particular order:
[row custom_class=""] [col-md-6]
A Perfect Circle – "The Doomed"
Next year A Perfect Circle will release their first album of all new own material since 2003 and the lead single form the forthcoming album is a song that capsules everything APC is about and at the same time it adds some new aspects to their music. The emotion and feeling are eminent. Melodies are gorgeous and band's singer Maynard James Keenan's vocals still possess that chilling quality, few can match. Sometimes it seems that he can give you goosebumps if he was singing the menu from the local Chinese take-away. That being said, fortunately, the lyrics to "The Doomed" are quite the opposite.
Anathema – "Endless Ways"
The highlight of one of the finest releases this year is a song displaying the the band's ability to channel emotion into gorgeous sounds arranges in a very calm and at first glance simple matter, but if you allow yourself to get really embraced by this song (and band's music in general), you will discover countless details that drive give the song amazing feel it has.
Myrkur – "Ulvinde"
Myrkur manages mix modern pop sensibilities with Nordic folk and black metal in an original and extremely appealing matter. She might not be the first to take a stab at this but the second album Mareridt, which came out this year is a truly brilliant piece of work. First single "Ulvinde" is a good representation of what happens when you know how to mix the above described influences with genuine songwriting and production and arrangements job that is simply breathtaking.
Beatsteaks – "Attack and Decay"
Throughout their career and with new album especially this German band has been combining endless line of inspirations and styles in very to-the-point songs. "Attack and Decay" takes some time to use to despite its simple, upbeat and catchy nature. The song combines several different aspects without losing the smooth flow. I've never been much for that vocal effect used in the chorus, but I must admit that it does work well in this song. Nonetheless thanks to the huge impact of minor twist in the melody.
[/col-md-6] [col-md-6]
The War On Drugs – "Thinking Of A Place"
There is something universally gorgeous about this song. It feels current yet nostalgic. It has a charm of old dusty tunes yet it's so current and hip. Guitar solo is chilling in best Mark Knopfler-vain. And the 11-minute version of the song gives you even more to sink your teeth into.
Pain Of Salvation – "If This Is The End"
Much like the entire album, this song is extremely gorgeous and intense. It's at the same time fragile and razor sharp and raw. The band flawlessly translate emotion into a song musically, soniclly and lyrically. So much so that it almost hurts to listen. So if you feel like some pain in your tunes give this one a spin. If you like it, buy the album for much more of the same intensity.
Heart Attack – "Burn My Flesh"
With "Burn My Flesh" this young French band delivers is one of the most blistering second-wave trash metal songs in years. There isn't all that much originality about this song, but there is an enormous amount of honesty and power only straggling band can come up with. At the same time the songs is very well written and dynamic in its arrangements.
Need – "Therianthrope"
"Therianthrope" is a great representation of what this Greek band is capable of. Balancing out modern and classic progressive rock is far more difficult that it sounds and this song (and the albums as well) are simply spot on when it comes to creating that balance, making the aspects complement each other and gel into one entity. Add solid performance and some seriously mature song-writing and you have a winning formula.
Steve Hackett – "Inca Terra"
With 40 years of creating music behind him Steve Hackett appears more vital and hungry than ever before. The skill and songwriting are sublime and this track embodies just about all the amazing aspects of this artist anno 2017. Song blends inspirations from across the globe in a seamless matter even when it takes listener to all the different unexpected places.
[/col-md-6][/row]
Giving all these songs time of my day… sure did make me smile.